That was quick, right? Last week we launched the private beta, today we are introducing new interaction support to Testkit 🛠
File Uploads
You can now upload files in your tests! There is mainly two ways to upload files: Clicking on an <input type="file">, or dropping a file into a dropzone.
Clicking on file inputs
When you record a test and click on a file input, the Testkit recorder automatically detects it and adds a step to upload a file via click, but the file you've used isn't being uploaded right away. Instead, you will see this when you open a test that has a file upload: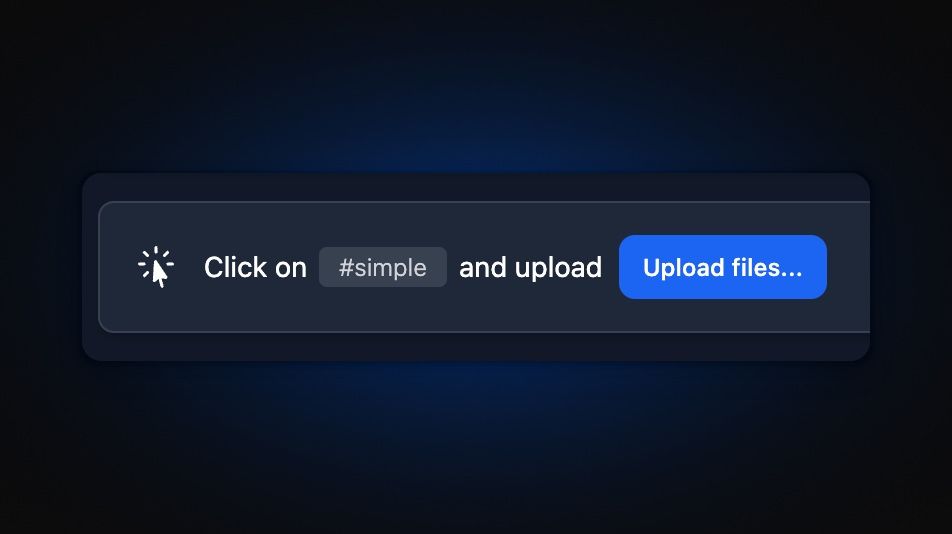 You can now click on "Upload files..." and upload one or multiple files. When you use this test in a test suite, Testkit will use these exact files to perform the upload for you!
Dropping files to upload
It basically works the same as clicking on file inputs. The only difference is that Testkit will actually drop the files into a dropzone instead of uploading them via an input.
Drag and drop elements (beta)
You can now record tests that include dragging and dropping elements. The recorder in this case detects if you use the native HTML5 drag and drop API or not. If you don't use the native API, Testkit will use mouse actions to handle dragging and dropping.
The reason this is a beta feature is that drag and drop is a big topic that has a lot of edge cases. Currently we only use coordinates to move things around, but the goal is to make these coordinates adapt automatically to viewport changes and other constraints. The most common use cases should work without problems though!
Select inputs and ranges
Select inputs and ranges are now supported, the select input is also fault tolerant in terms of value changes. Meaning if you change the value of an option, Testkit automatically uses the innerText to find the value instead.
Next up 🛠
First off, don't worry! Testkit already supports the most common interactions, and I'm planning to support even more! In the coming days, I will be focusing on implementing assertions, a crucial part of testing! Keep an eye out for the next update. If you want to hear from it first, or want to become a Testkit user early on, join the waitlist!