I'm super excited to announce that Testkit is now in public beta! Anyone interested in trying it out can now sign up for a completely free 14-day trial with no credit card required! Additionally, we will be launching on Product Hunt on tuesday, so keep an eye out for that as well! 👀
And now, the updates! Buckle up, it's a lot! 🔥
AI self-healing is now here 🩹
Developers build, they don't like to fix broken tests! This is a big pain point I wanted to tackle - and I'm very excited to release the first version of our AI self-healing features! Whenever selectors break, which often happens during refactoring, or even while building new features, Testkit tries to find that element by trying different methods, like using some fallback selectors that were recorded in the background or finding elements with the same or similar innerText on the page, preferably near the old position of the button. If you'd like to dig deeper into what the AI does, check our dedicated Testkit AI page in our brand new docs! ✨

Schedules 🕐
Want to run your test suites only at a specific time? Or in a specific interval? Previously you would've needed to use our GitHub Action to do that. Now, you just go into the Testkit dashboard and choose the days and the time you want to run your test suites and that's it! You can also make your test suites run in an interval like every 2 hours, or every 30 minutes.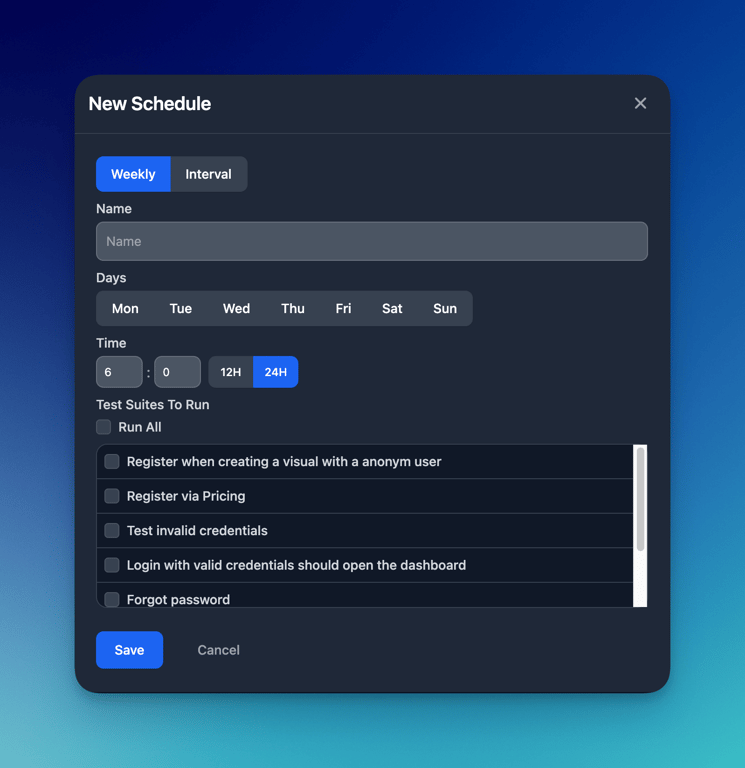 More Flakiness Detection 👀
In the previous update, I've already mentioned flakiness detection - but it got way better since then. Testkit now has more room to (safely) intervene whenever flakiness is detected, plus it now detects even more cases of flakiness!
Parallel Tests & Run Order ⏳
Parallel testing has now been fully implemented! Sick of waiting for your tests to finally pass? Use parallel workers, and run your tests in parallel in lightspeed! This also brings some room for race conditions. One of those cases is when you use refresh tokens for your sessions which are usually invalidated right away. Combined with the same login in multiple test suites that run in parallel, some test suites might get an unauthorized response for using the wrong refresh token. To fix this, you can now force a test suite to only run after a specific other test suite.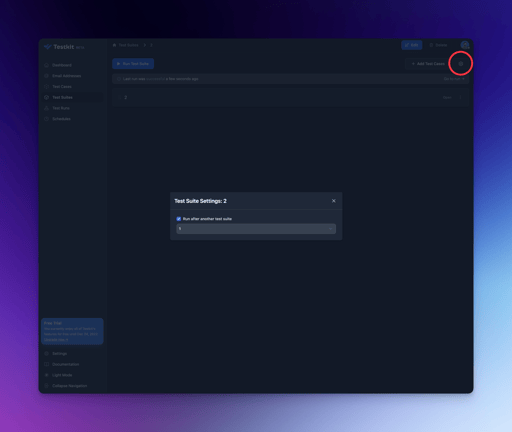 Recorder UX Updates 😍 The recorder got a few UX updates! The popup now automatically closes when you start recording, and you get a toast notification to let you know your recording started! There's a few more things, but all in all it was just small inconveniences that were resolved. I have a lot of plans to make it even better in the future!
Right-click Support 🖱️
Custom context menus are becoming a thing, which is awesome because of how much better the UX of an application becomes with a custom context menu! Testkit now has full support for testing custom context menus now, thanks to the right-click support that has been added!
Documentation! 📄
We now have an official documentation, which is also linked on the website and application! It's still early, but will be expanded a lot more over the next few weeks!
Next up 🚀 Base URLs! This is an important feature that enables running test suites in the local environment, or on preview environments with dynamic URLs. I'm working on it as we speak, but since we're in launch mode for the next two weeks, the priorities might change! Nevertheless, I'll keep you posted!
Until then, happy testing! 🛠